Dr. Hemlata S. Mohan
Dr. Hemlata S Mohan, a President Awardee, currently the Chairperson of Centre for Cultural Resources and Training (CCRT), Ministry of Culture, Government of India, Former Director and Principal of Delhi Public School, Bokaro Steel City, Supreme Court trained Mediator, Former Chairperson of State Commission for Women, Jharkhand, Member of Governing Body JHALSA, General Secretary Spicmacay, Jharkhand State initiated a paradigm shift in education to create leaders & responsible citizens of tomorrow with Indian values as well as steps to improve effectively the status of women by empowering them and sensitising the society towards gender biases / inequality, violence against women, PCPNDT Act, human trafficking especially of women in the society and about rights of women. Her deep concern about the condition of women in the present day society has led to the conceptualization of a project entitled "NariJagriti"," Samaj Jagriti" "Awakened woman, Awakened society" aimed at establishing the empowerment of women in the state of Jharkhand. Under her dynamic guidance and leadership, several measures were put in pipeline to tighten the porous border across Jharkhand and neighboring states where human trafficking is prevalent.With the strength of rock and flexibility of steel, she moved in swiftly taking comprehensive steps to formulate schemes and strategies to ensure safety for women and children. She is also credited for initiating many programmes for promotion of art and culture in the district. As Chairperson of CCRT, Dr Hemlata S Mohan is striving to ensure holistic education encompassing the cognitive, emotional and spiritual development of the children across the country by effectively spearheading the strengthening of the foundation of nation by making education, culture based and meaningful.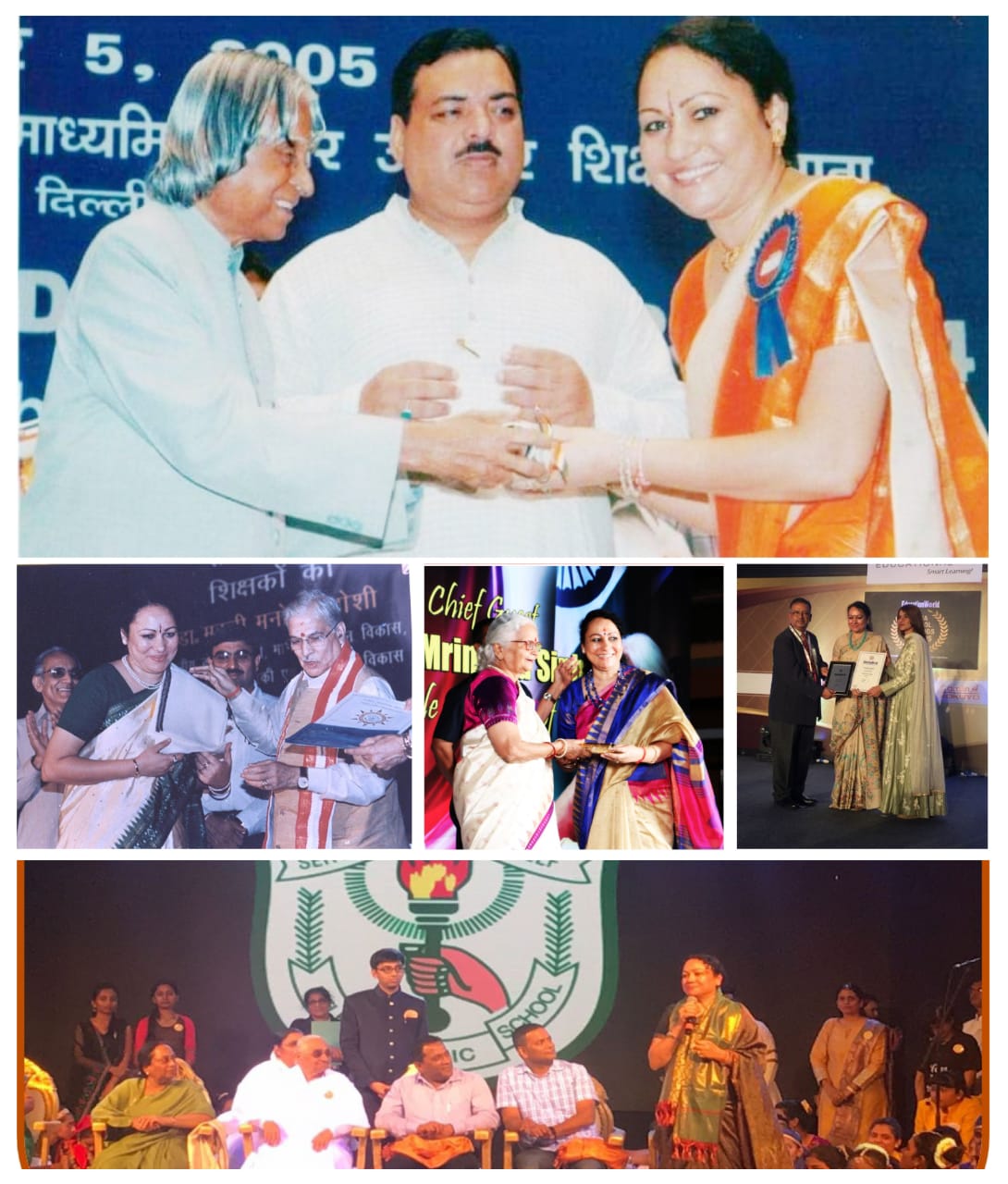 Having a brilliant mind, a poet's heart, and with an experience of 38+ years of school education, she has brought in changes, implemented and established reforms, uplifted and enhanced the Education Sector of Jharkhand. As Principal, Dr. Hemlata S. Mohan has led Delhi Public School, Bokaro to great heights of glory. She has an array of qualifications -M.A. B.Ed., LL.B., Ph.D., but to define her just as an academician will do her an injustice. Her philanthropic pursuits to uplift the community have had a rippling effect on society, touching and changing human lives, transforming them to open vistas and horizons, to a better world. Deepansh Shiksha Kendra, a school run for those who are unable to get even elementary education; 'Koshish Vocational Training Centre, where women from economically weaker sections are taught tailoring and embroidery skills, soft toy making and candle - making skills for free ensuring that they are economically self-sustaining to earn their livelihood , are her dreams which have come true.

She has coordinated the development of school education as President of Dr. Radhakrishnan Sahodaya School Complex for over 1.5 decades & her proactive measures to conduct Health Programmes, create awareness about HIV/AIDS, participation in different activities held at District Level and as active member of Family Counseling Centre Bokaro, has made her one of the prominent members of the society.

She is the recipient of the Prestigious National Teacher Award(President's Award)for 2004 from His Highness, President Dr. A.P.J. Abdul Kalam, CBSE Teacher Award for 2002 from the Minister of Human Resource Development, Dr. Murli Manohar Joshi, The Best Teacher Award from Unified Council in 2002, Avantika Sarla Chopra Memorial Samman for the invaluable & pathbreaking contribution for the promotion of Social Welfare, Education Indian Art and Culture in 2008. Best Principal Award from Science Olympiad Foundation in 2008, Gandhi Samman Award in the year 2009 from Mahatma Gandhi Social Welfare Society, Ranchi for her contribution to the community in the field of education, Best Citizen of India Award 2009 by International Publishing House in recognition of exceptional caliber and outstanding achievements in the field of education and for contribution to community, Life Time Achievement Award from Her Excellency Smt. Mridula Sinha, Hon'ble Governor of Goa by National Education Summit 2017 held at Goa.

Her Lyrics- 'HogaKalSunehra' and 'Badhta Ja Tu' selected and telecast by DD National on 14th August, DD India, and DD Bharti on 15th August 2017 with the title of the Programme 'HogaKalSunehra' across 153 countries.

Received the prestigious"Future 50 –Schools Shaping Success" Certification in recognition to prepare students for the 21st century and for a vision to craft 'Student Success' conferred by Fortune India, a multinational publication that is owned by Time Inc. and headquartered in New York.

Awarded "Progressive Principals of India" by "Re Think India" on November 9, 2017 at India International Centre, New Delhi and under her stewardship DPS Bokaro was Ranked 1 in Jharkhand in 14 parameters by education world for consecutive 4 years.

She is associated with Sanskar Bharati since 1987 in various capacities of District President, PrantSahityaVidhaPramukh, Pradesh Vice President SahityaVidha and presently AkhilBharatiyaUpadhyaksha (National Vice President.) She is continuously working for the advancement of Indian Literature, music and culture in the society. She has also attended State / National conferences across the country.

Creating leaders is her passion, owning the responsibility is her mantra and freedom to work her philosophy. As an educationist she has emphasized on the holistic development of the students and as an activist her vision for the future is to create legal awareness amongst the women in society and also to create economic independence among them. Dr. Hemlata S. Mohan is a persona who is a role model for many and a pillar of strength to students & the women of the nation.

Dr Hemlata S Mohan is the Chief Mentor for Delhi Public School, Chas and is leaving no stone unturned to scale the school to greater heights with her focused vision and able guidance.

A Multi-faceted personality popularly known as the Steel Woman of the steel city, her students and her peers look up to her as an iconic contemporary figure.